Available Positions
(Only shortlisted candidates will be notified)
MUHAMMADIYAH ASSOCIATION (HQ)
Executive (HR & Admin)
Responsibilities :
Perform the full spectrum of HR/Admin Duties/Correspondence.
Experience in managing e-payroll systems via HR  InfoTech is an advantage.
Facilitate onboarding, performance appraisal exercise, and Human Resource Programme (HRP) when required.
Provide general HR/Admin-related duties.
Requirements/Qualifications :
Diploma/Degree or equivalent qualification preferably in HR and Training
Minimum 3 years relevant working experience in the management and HR field
IT literate
Excellent Communication Skills – written and verbal
Able to multi-task
KABA (KELAS ASAS BIMBINGAN AGAMA)
No available positions at this time.
MUHAMMADIYAH WELFARE HOME (MWH)
Welfare Officer
Responsibilities :
To supervise residents on their daily routine in the home.
To ensure safety, welfare and confidentiality of the residents is being safeguarded at all times.
To supervise and ensure smooth execution of residents' daily routine and programme.
To ensure proper housekeeping at all times.
To perform secondary duty as and when required.
To perform any other relevant duties as delegated by supervisor.
*Residents – boys between the age of 11 to 19 years old
Requirements/Qualifications :
Minimum GCE N level or equivalent qualification/ relevant experience.
Physically fit.
Able to manage and educate at-risk youths.
Able to work on shifts.
Welfare Home Attendant (Part-Time)
Responsibilities :
Laundry works including washing and ironing of welfare home residents' attires as well as washing of towels, bedsheets and blankets.
Handle simple sewing and alterations works for residents clothing as and when required.
Ensure the cleanliness of the laundry room and the drying yard.
Requirements/Qualifications :
No minimum qualifications required
Report works three (3) times a week based on the roster
Reporting time: 8am to 4pm or 8am to 2pm
Hourly rated pay
Case Worker
Responsibilities :
Execute casework management procedures from admission to discharge.
Identify residents' care needs, strengths and risks.
Complete all required assessments on resident and family using the appropriate tools for intervention plans.
Prepare and maintain the Individualized Care Planning (ICP) for each resident, including progress and assessment reports, care plans and case notes recording.
Requirements/Qualifications :
Degree / Diploma in Social work or Counselling or related field
MUHAMMADIYAH HEALTH & DAY CARE CENTRE (MHCC)
No available positions at this time.
MUHAMMADIYAH ISLAMIC COLLEGE (MIC)
Director
Responsibilities :
To lead a team in providing academinc administration, planning, promotion and service delivery in the college.

To stay current on pedagogies and best practices in the industry.

To work in collaboration with the Board to drive the achievements of college's education KPIs.

To develop, review and streamline work processes and implement new processes to improve efficiency and effectiveness of service delivery.

To provide the board with regular updates of college's activities, curriculum implementation, progress of board directives and fiscal matters.

To oversee the planning, implementation and review of organisation's strategic goals/thrusts

To oversee and develop evaluation strategies

To work in partnership with the Board to set academic objectives and standards

To build strong and positive relationships with all stakeholders including community partners and government agencies.
Requirements/Qualifications :
Masters degree preferably in Islamic Studies or similar qualifications.

Minimum 5 years experience in managing and educational institution at a senior management level.

A people-person with excellent interpersonal and communication skills.

Strong project management skills and able to work effectively with a diverse community and engage various stakeholders.
MUHAMMADIYAH KINDERGARTEN
Teacher- Ustazah
Responsibilities :
To teach and educate creatively to pre-school children age 2+ to 6 years old.
To plan daily lesson and activities a week before class.
To prepare materials and activity sheets needed before starting of class.
To come out with activity sheets assisted by Principal.
To come out with letters or notes to parents with Principal's approval.
To check children's bag every day and pass any documents to admin or principal.
To check children's communication app every day and reply to parents' queries.
To plan, prepare and give accurate records or checklists on children.
Able to work effectively with other team members and parents.
To call and communicate to parents regarding child if needed.
Create and maintain a positive learning environment.
To help in raising fund for the association/kindergarten.
To carry out duties delegated by Principal in school's events diligently.
To take care of children's toileting when needed.
To take over classes or duties assigned by Principal when any staff is absent.
Requirements/Qualifications :
Minimum O'level with Arabic/ Islamic Studies.
Preferably Dip in Arabic Language / Quranic Studies.
Willing to work on some weekends.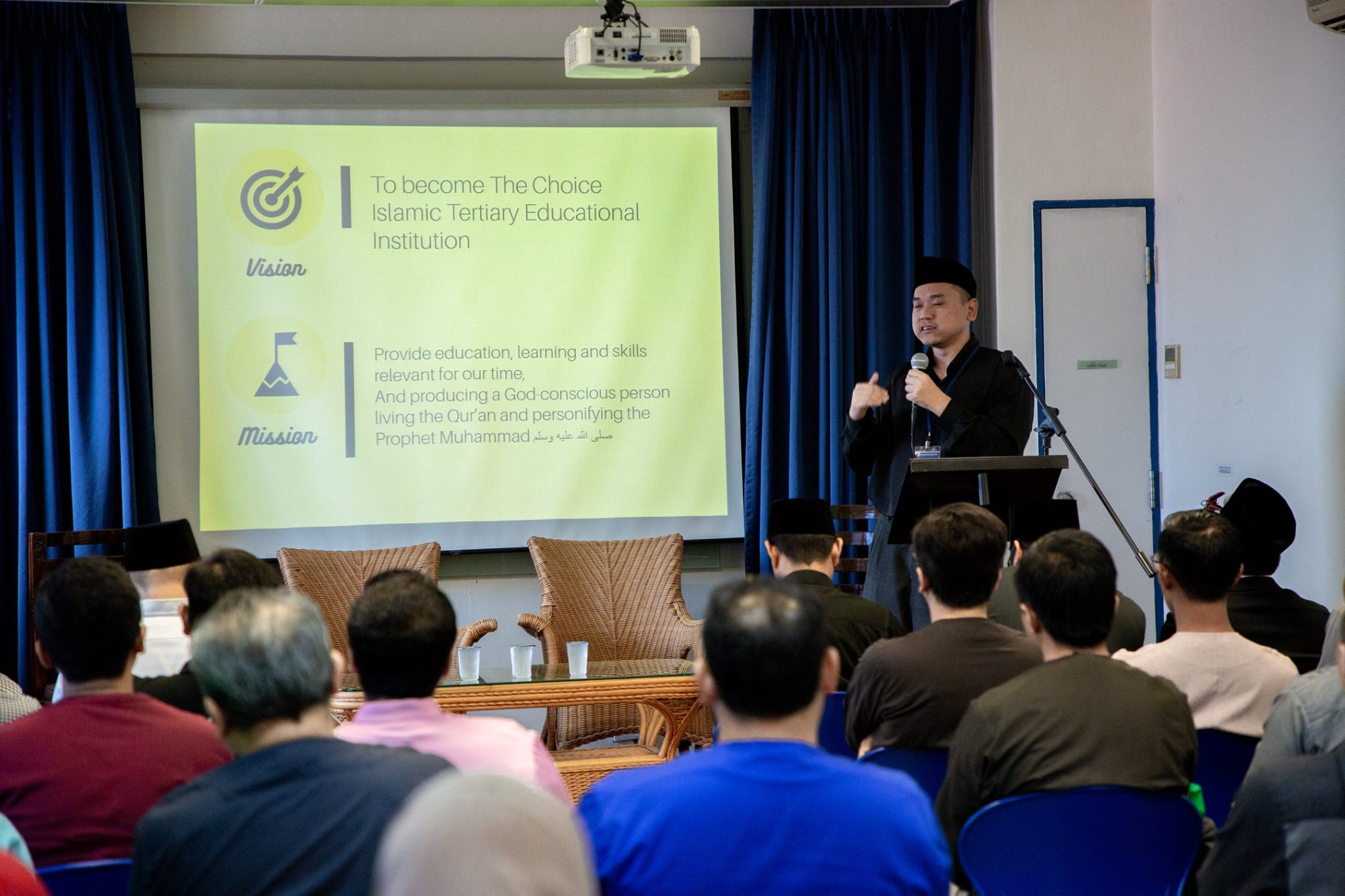 "The best among you are those who bring greatest benefits to many others."
– Hadith Nabawi, narrated by At-Tabrani
Benefiting the community together
Follow Our Socials
You can find us on these platforms too!
DAKWAH

Asatizah Development
Free religious classes and programmes
Promoting positive moral values
Inter-faith dialogues
Combating extremism
Addressing societal issues
EDUCATION
Muhammadiyah Kindergarten
KABA Weekend Madrasah
Madrasah Al-Arabiah Al-Islamiah
Muhammadiyah Islamic College
Biasiswa Muhammadiyah (Scholarship)
WELFARE
Assistance to low-income families
Assistance to underprivilleged students
Jenazah Management Services
Projek Sinar Ihsan – Fostering Agency
Muhammadiyah Welfare Home (MWH)
Muhammadiyah Health & Day Care Centre (MHCC)
Muhammadiyah Senior Activity Centre – SAC (Yishun)
Advance Care Planning (ACP)